Take Advantage of This Month's Current Offers
We're Here For You
Landers McLarty Ford always puts customers first!
Don't take our word for it: Read our reviews and see what everyone is saying.
I bought a used Raptor from this dealer over the internet, worked with Greg on the deal and I can say that Greg, Matt and the rest of the personnel at this dealership went out of their way to help me complete the purchase. If I could give this dealership and Greg more than 5 stars I would. If you are thinking of purchasing a vehicle from this dealership I would highly recommend it. Thanks again for the best experience I have ever had purchasing a truck!
I can't begin to Express my gratitude to Jayde Boatfield as my salesperson. He never complained or made me feel like a bother and went above and beyond to get me in my first ever brand new vehicle.
Love my car nick was very good to me and my mother and the rest of the staff there are great thanks everyone for your help
Great people, worked hard all day to get me into a nice car, they kept working on a deal all day, and then they found me one. Great bunch of people
Thor is an excellent service advisor. Always try to deal with him during repair and service to my car. Kind,knowledgeable, and an excellent employee.
Kristen was a huge help during my visit when she helped me determine what all I needed done to my vehicle. Service was completed at an impressive pace.
We made a good choice when we went to our local dealership, Landers Mclarty There was no hurry, no pressure, over all, every thing was satisfactory.
the service spot on the people the best i have met over the phone and in person and the price you couldn't find a better place to do this quality service any where else
Landers McLarty Ford of Fort Payne is an awesome place with some awesome people. I would definitely recommend them for purchasing a vehicle or having your vehicle serviced.
They all are very friendly and easy to speak with. Dave went above and beyond when it came to helping us and I would definitely go back to him and them in the future!
Transaction was painless, in and out of there within two hours. Great experience, Brayden was very easy to work with. Not the typical buying experience with the back and forth. They had listed price, I made fair offer for both parties, they accepted, did paperwork and out of there. Will use again. Thanks Brayden!
The experience was great, and working with David Terrell was a pleasure . David Terrell and the other employees work hard to get the numbers where the needed be so I could purchase my new car. Everyone was very friendly and at the end of the day I was very very happy with deal on the car I bought. I would highly recommend buying a new or used car from this dealership to family and friends !
They told me and my sister a estimated time and it took longer,so the service dept. gave us a loner car till they got done. Very happy with them!
Everyone was very helpful and friendly. My salesman, David Terrell, explained everything well and got me a deal that I couldn't refuse. The process was quick and easy and I love the warranty that was available to purchase.
THE DEALERSHIP DID A GOOD JOB GIVING ME ALL THE INFO IN A TIMELY MANNER SO I COULD MAKE MY DESICION .I ENJOYED WORKING WITH BEAR
I HAD A RECALL ON MY VEHICLE AND THEY GOT ME IN QUICKLY. EVERYONE WAS SO NICE AND HELPFUL. IT DIDN'T TAKE THEM LONG. I ALWAYS HAVE A GOOD EXPERIENCE WITH LANDERS MCLARTY OF FORT PAYNE.
Top notch and as good as It gets... Never been treated as good or had a better experience when buying a vehicle. Really good doesn't even define my whole experience and how I was treated. Downright impressive they are! They most certainly go over and beyond to make sure you are 100% satisfied. I don't care where you are or what you want if you need a vehicle don't matter what type contact this dealership and ask for Dave. I can guarantee you he will go over and beyond to get you taken care of. Again thanks Dave, and all of Landers McLartys Ford of Fort Payne Alabama. Y'all top notch and just good people in my book!
Thor is always great to work with in service department. He is knowledgeable and helps me get the service I need in a timely manner.
Service was great. Very helpful and professional employees. Thor and Kristen did an amazing job. I would highly recommend getting your vehicle serviced at Lander McLarty Ford.
One of the things I hate is having to look for another car. After seeing the ad on the website, I thought I would try McLarty Ford as it is located near where I live. Everyone was very pleasant and helpful. Made my buying experience less painful.
I'll start off by saying this is a great place to buy a car and I recommend you see Brayden King his is amazing very professional, helping, caring and will go out of his way to make sure your experience is great.
Everything was great and I enjoyed working with Kristen , service was fast and friendly. I will definitely be choosing this dealership for your future services .
Fantastic service! Fair prices! Job completed in a timely manner! Will continue taking my vehicle here to receive service! Will recommend to friends and family.
We had an electrical issue with the overhead and vanity lights and the left blinker light quit working the night before we were going out of town. I called early the next morning and Thor got the car scheduled within an hour and Andrew got our problems fixed and we were able to leave on our trip that morning as planned. I was afraid other lights or electrical issues would occur on our trip and we really appreciated their quick fix to our problem. Thor has been a great service advisor/person to work with when we had previous issues with our vehicle. Thank you.
They were very nice and helpful. Took a little while to finish the oil change. But that's ok.. I'm sure they were busy.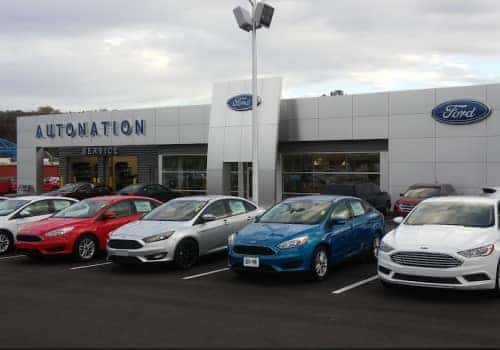 Get Directions To Our Dealership
Welcome to Landers McLarty Ford
Stress-Free Car-Shopping
Make Finding Your Next New Vehicle a Standout Experience with Us.
Here at Landers McLarty Ford, Serving Gadsden, Boaz, Centre, Rome GA, and Albertville AL, We are Here to Help!
Pretty much any car dealership can talk about its wide selection of vehicles and standout customer service, but we live it in our showroom here in Fort Payne. You can find a multitude of new and used Ford models, along with a full-service center, and get all the details on any vehicle that grabs your attention, thanks to our team that guides you through the process, encourages browsing and asking questions, so you can learn and make a smart, and informed decision about your next new ride. That, and much more separates us here at Landers McLarty Ford from the rest, and it's why we're the place to go!
You can discover the joys of driving a new Ford model when you visit our nearby dealership in Fort Payne. Our friendly and professional staff will be happy to facilitate a test drive in a new Ford Fiesta, Escape, EcoSport or used Ford inventory is sure to do the trick. There are many advantages to opting for a pre-owned auto, including cost savings. Moreover, each car we offer at our dealership in Fort Payne exceeds our strict standards for quality, reliability, and performance.
Found Your Next Ford Model and Are Ready to Drive Home with it? Landers McLarty Ford is ready to Discuss Car Loan and Lease Solutions
You have your new Ford Fiesta, F-150, Escape, Fusion or Mustang all picked out and can envision yourself driving it full time, but the next step happens here at our dealership, too. With our financing team, you are going to receive and learn about all our car loan and lease options in detail. We provide you with the current offers and incentives and discuss all the ways we can help you find a plan that works within your finances. We keep the process clear, and stress-free so you can look forward to driving through the streets of Gadsden, Boaz, Centre, Rome GA and Albertville, AL in your new ride soon.
No matter what vehicle you're driving--or will be driving--we can assist you in ensuring that your car or SUV enjoys a long and healthy lifespan. Our full-service dealership offers a well-stocked inventory of auto parts and accessories designed to optimally fit your exact vehicle. Filters, caps, tires, wheels, wiper blades, seat covers, and a whole lot more, all at your fingertips. Don't forget to look through available parts coupons and special offers--you could save money on performance parts, lifestyle accessories, and replacement parts. If you're not a fan of elbow grease and getting your hands dirty, you can entrust the care and maintenance of your Ford Fiesta, F-150, Escape, Fusion or Mustang to the expert technicians at our Fort Payne service center. Schedule appointments online or by phone to take care of oil changes, tire rotations, wheel alignment, brake service, battery repair, and other essential car services, all in one convenient place.
Whether you're researching a new car, seeking service for you current one or exploring finance options, we hope that you'll these simple directions to Landers McLarty Ford in Fort Payne where you'll always be well taken care of!
Contact Us